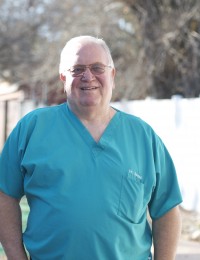 D.V.M
He was born and raised in northern Arizona.  They had a family business that included alfalfa farming and cattle production.
He developed a deep appreciation for agriculture and animals.  As a youngster he grew up wanting to go into human medicince.  As he was going to college a the University of Arizona after his high school graduation.  He earned his BS in Agriculture and decided that his love of medicine and his animal background would be a good fit for veterinary medicine.  He attended Colorado State University and graduated with is DVM degree in 1977.
He practiced for 3 1/2 years in Arizona following graduation.  He practiced in California for 3 years and then moved his family to Utah in 1983.
His career has been primarily small animal private practice and emergency small animal practice.  He has enjoyed very much the medicine and client interactions.